An Easy Preserved Lemon Recipe and How to Use Them
This easy preserved lemon recipe is a great addition to many recipes. It can sometimes be difficult to find in stores, but it is so incredibly easy to make. It will also last in your fridge for up to 6 months. I use this ingredient often in my Moroccan Lemon Chicken recipe, but it has a handful of other great uses.
I was first introduced to this ingredient when I started learning Moroccan recipes from my family. Since then, I use this preserved lemon recipe a few times a year and always keep a jar in my fridge to have on hand. They are a great enhancement to so many dishes and once you begin using them, you"ll never use a regular lemon in your cooking again!
What are preserved lemons and why should you use them?
Preserved lemons are a traditional ingredient used in a lot of middle eastern cooking. The preservation process gets rid of the bitter taste caused by the lemon rinds. They really add an incredible zesty flavor to dishes and sauces because it makes the entire lemon completely edible. Typically when you put lemon in a dish, you remove the lemon before eating. In the case of using preserved lemons, you eat them in their entirety. It's nice to have a little piece in each bite.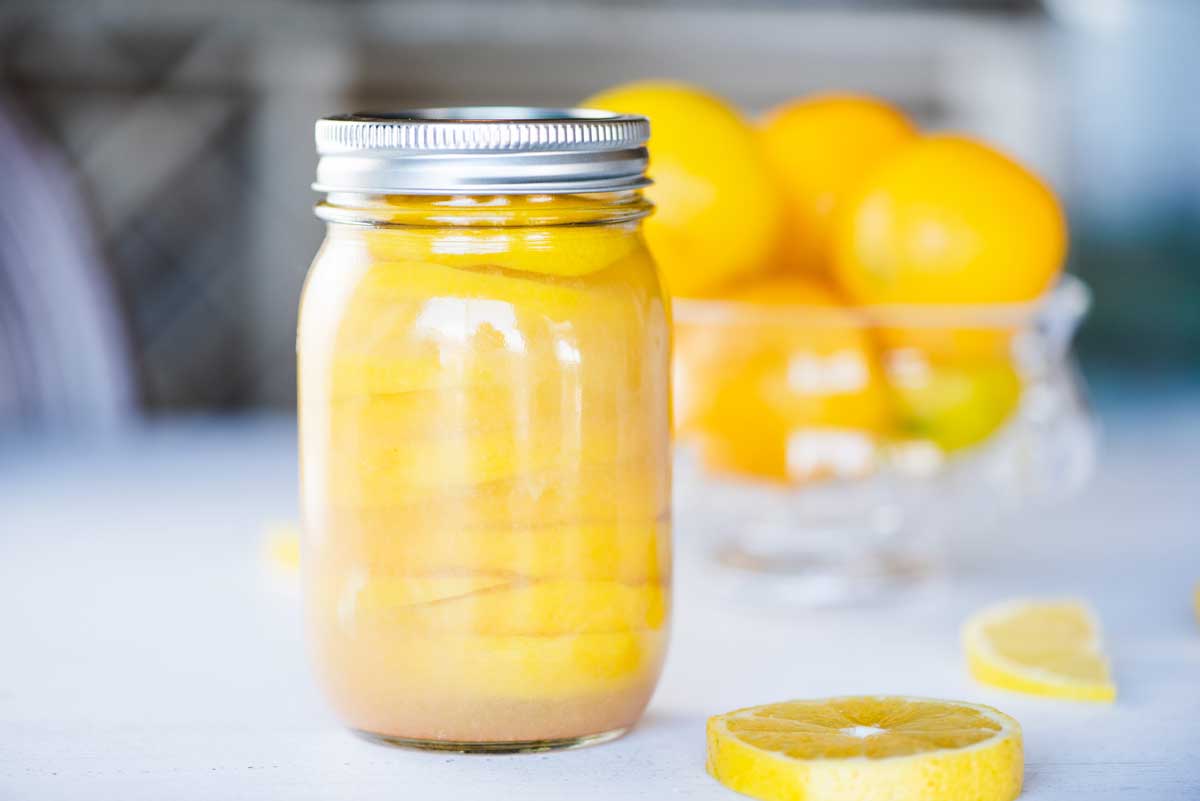 How to cook with preserved lemons and preserved lemons uses
There are a handful of dishes that really shine with this preserved lemon recipe. Here are a few you can experiment with.
Roast Chicken: Try adding them underneath the skin prior to baking.
Fresh Fish: These can be used in the center of a whole fish when baking along with other herbs such as basil.
Preserved lemons are an amazing addition to recipes such as chicken piccata
As a garnish: if you're making a recipe with salmon, for example, you can place a few slices of preserved lemon over the top before serving. What is nice about using preserved lemons as a garnish instead of a regular lemon slice, is that the entire lemon can be eaten. Since they are preserved with salt, they also add a nice salty zesty punch of flavor.
Use in sauces: In any sauce that calls for lemon juice, you can finely chop the rind of a preserved lemon and add it to your sauce. It will really enhance the flavor.
Dressings: if you often make your own dressings at home I highly recommend adding 1/4 teaspoon of finely chopped preserved lemon rind.
Easy Preserved Lemon Recipe with 3 Simple Ingredients
Below is my easy preserved lemon recipe which uses only 3 simple ingredients. They are sliced organic lemons, salt, and fresh lemon juice. I always prefer to use pink Himalayan salt as the one found here at Trader Joes. I have not used regular table salt in over 6 years.
Benefits of using Pink Himalayan Sea Salt
Pink Himalayan Sea Salt benefits are abundant and they persuaded me years ago to get rid of my standard iodized table salt. Since then I have not looked back. Using Pink Himalayan Sea Salt will actually improve the flavor of your dishes, in addition to its many health benefits. Below is a list of some of the many Pink Himalayan Sea Salt benefits that might persuade you as well!
rich in mineral content
lower in sodium
helps aid in hydration
can help prevent acid reflux
aide in muscle cramping
improve metabolism
increase bone strength
lower blood pressure
assist in the absorption of nutrients in the intestines
improve circulation
free of additives and minimally processed
can also improve skin and aid in sore muscles when used in baths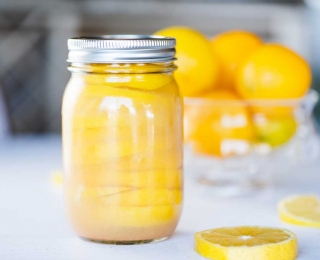 Preserved Lemon Recipe
This easy preserved lemon recipe is a great addition to chicken, fish, sauces, and many ethnic and middle eastern dishes. With preserved lemons, you can eat the entire lemon without any bitterness from the lemon rind.
Print
Pin
Rate
Ingredients
3

tbsp

Sea Salt

I prefer pink Himalayan

¾

cup

lemon juice

freshly squeezed

2

whole

lemons

organic
Instructions
Add 3 tbsp Pink Himalayan Sea Salt to a Mason Jar

Slice 2 organic lemons and layer them inside your Mason Jar

Freshly squeeze about 5 lemons and pour inside mason jar until the lemon juice is covering the top of the lemons, be sure to leave a small amount of space at the top.

Close the lid and turn the jar upside down several times to mix the salt

The lemons will be preserved after about 1 week and you can leave them in your fridge for up to 6 months
Notes
I prefer the use of Pink Himalayan Sea Salt over table salt for its many health benefits. Also since we are eating the entire lemon, I prefer to use organic lemons.
Nutrition Facts
Preserved Lemon Recipe
Amount Per Serving (2 slices)
Calories 8
Calories from Fat 9
% Daily Value*
Fat 1g2%
Sodium 4186mg182%
Potassium 38mg1%
Carbohydrates 3g1%
Protein 1g2%
Vitamin C 14mg17%
Calcium 5mg1%
* Percent Daily Values are based on a 2000 calorie diet.
Have you used preserved lemons in your cooking? Have you found more uses for including preserved lemons in your recipe? Please comment below, I would love to hear your feedback!