High Resolution Images & Licensing
We take original photography for all of our articles. We retain the copyright to all of our images, however, should your establishment want to use one of our images from our featured articles, you may purchase them by sending a request to sondra@cuisineandtravel.com and we will create a client gallery for you to select the photos and purchase the licensing directly through our site.  You will receive a commercial license which will give you rights to use your selected photos for marketing purposes such as websites, social media, flyers, and brochures. We also offer reduced packages for the entire set of images from your featured articles as well as yearly subscriptions for Public Relations & Marketing companies, giving them access to our entire library. Any person or company found using our photographs without first obtaining a license will be subject to 10x our regular licensing fees or legal action.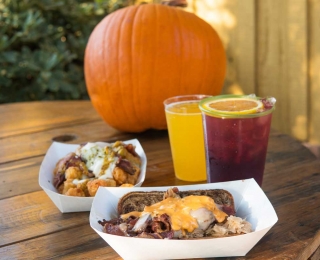 With limited ways to celebrate the holidays this season, park goers will love the Knotts Berry Farm Taste of Falloween. Knotts never lets us down and this fall they've created a delicious and safe getaway for the whole family. This new food festival will feature many...
All of our event photo's are free to event attendees only, for commercial licensing please email info@butterflysocialmedia.com