Delicious, Easy, & Authentic Chicken Tikka Masala Recipe
You may think, with all the complex flavors, an authentic Chicken Tikka Masala recipe would be complicated to make at home. However, once you own the right ingredients it is incredibly easy to create this dish.  Indian cuisine is absolutely delicious with rich creamy sauces that go perfect over rice or served with a toasted piece of Naan bread for dipping. I especially love all the bold flavors, aromatic spices, and bright photogenic colors.
Out of all the Indian dishes, Chicken Tikka Masala is likely the most popular and widely known. Over the years, I've created this recipe in numerous different ways. I've used both fresh tomatoes, canned tomatoes, greek yogurt, and coconut milk. Finally, my Tikka Masala recipe has been perfected.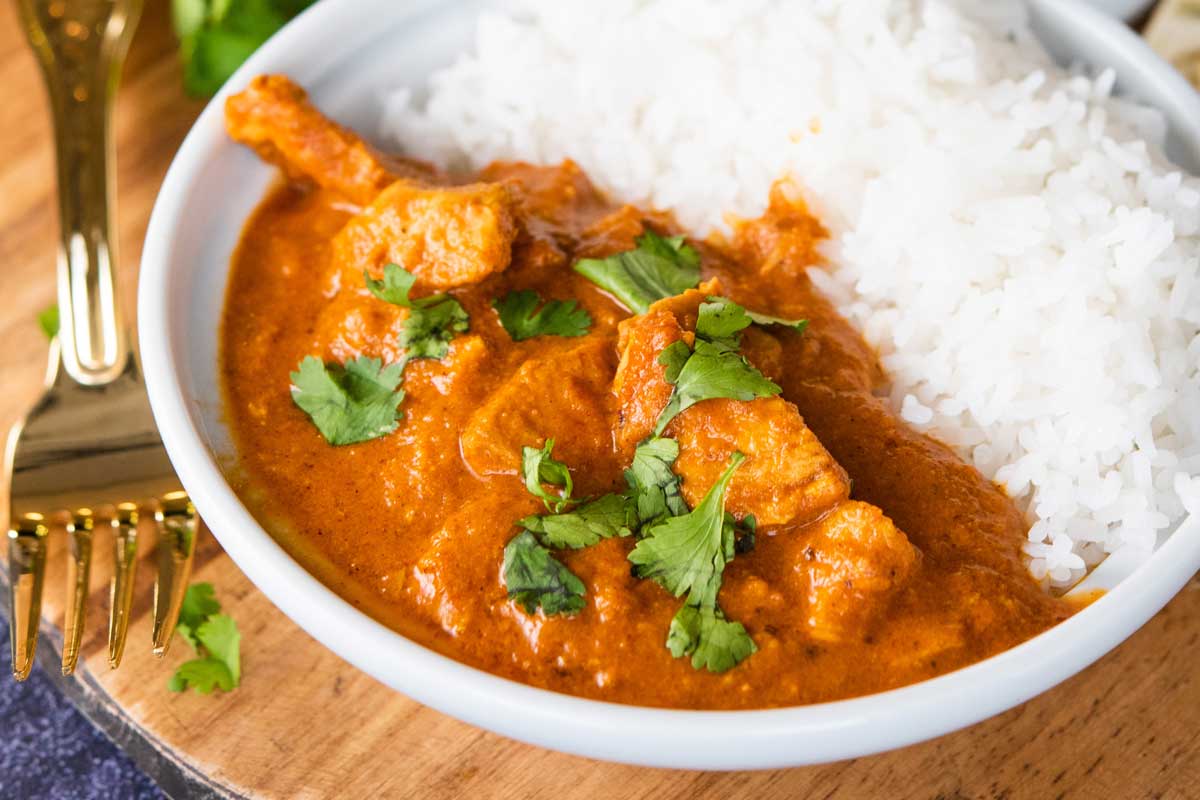 I've found that the best variation uses fresh tomatoes and greek yogurt. This recipe even inspired me to write an article on how to peel and seed fresh tomatoes. Once you see how easy it is, you'll start using fresh tomatoes to create sauces at home all the time. The drastic difference in flavor is night and day. I also like to let my tomatoes sit out for a few days until they become bright red making them extra flavorful and juicy. If you absolutely did not want to use fresh tomatoes, then I would recommend using whole peeled tomatoes, but not crushed tomatoes or tomato sauce.
This recipe cooks best using an Instant Pot or Slow Cooker. If you use a slow cooker, you will follow the exact same recipe and just let the dish slow cook for 8 hours. In an Instant Pot, it only takes 20 minutes! I've tried cooking this recipe on the stovetop as well, but it is just not the same. On the stove, you would need to simmer this Chicken Tikka Masala recipe with the lid on for 45 minutes to an hour.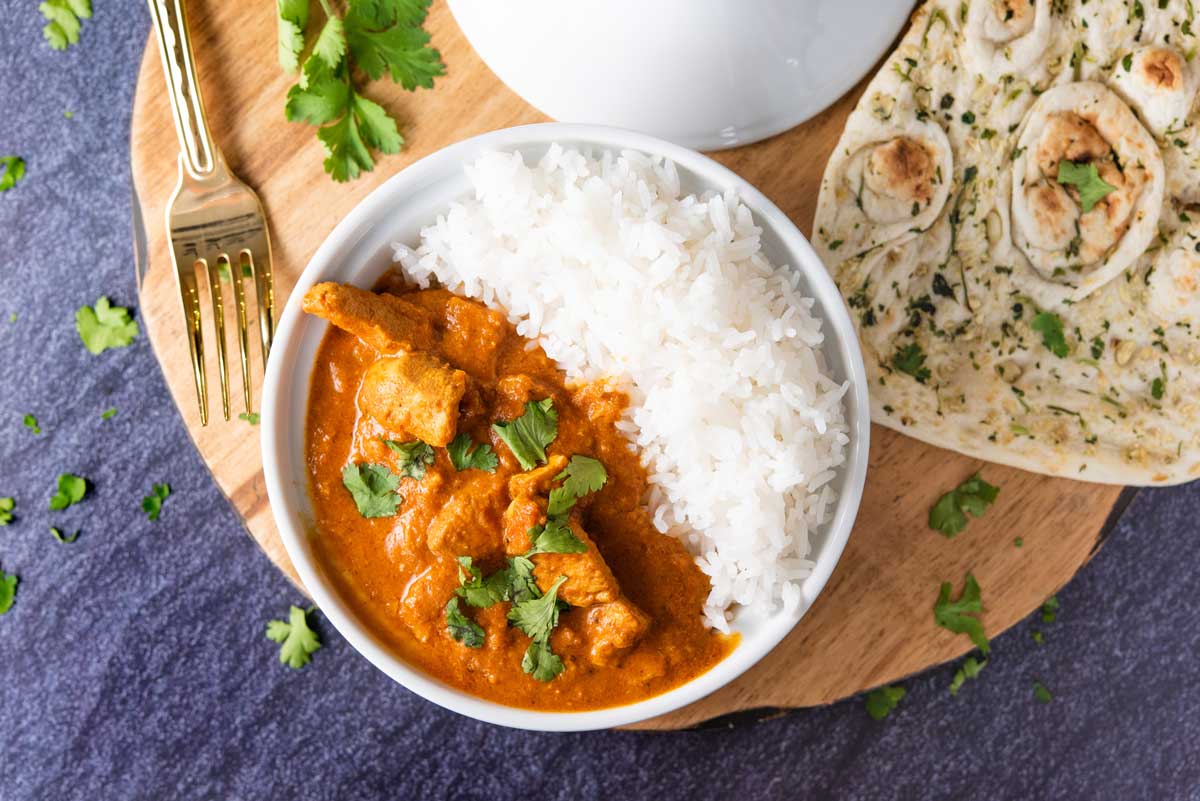 Chicken Tikka Masala Recipe Ingredients
2 Chicken Breasts
2 Large Vine Ripened Tomatoes
tomato paste
Greek Yogurt
lemon juice
sweet onions
garlic
ginger
butter
spices: graham masala, coriander, cardamon pods, tumeric, paprika, cayenne pepper, salt & pepper
First, you'll want to cut your chicken into 1″ pieces and add to a bowl with 1 tbsp lemon juice, graham masala, salt, and pepper. Then set to the side. You're going to put your Instant pot on the Saute "more" setting, which is the high setting. Then you'll add your butter, onions, garlic, ginger, and cardamon pods. After sauteing for about 2-3 minutes, you'll add your diced tomatoes which have been seeded and peeled. be sure to seed your tomatoes over a bowl with a strainer to reserve the leftover tomato juice and set to the side. Continue sauteing for another 2-3 minutes until the tomatoes are nice and tender. Then take out the cardamon pods and add everything to a blender.
While the ingredients are cooling in the blender, I use the remaining tomato juice and whisk in the tomato paste and spices. Then add a little spray of olive oil to the Instant Pot and begin sauteing the chicken. While your chicken is sauteing, you want to puree your onions, garlic, ginger, and tomatoes in the blender until it creates a smooth sauce. Then pour into your instant pot with the chicken, stir and scrape any bits stuck to the bottom.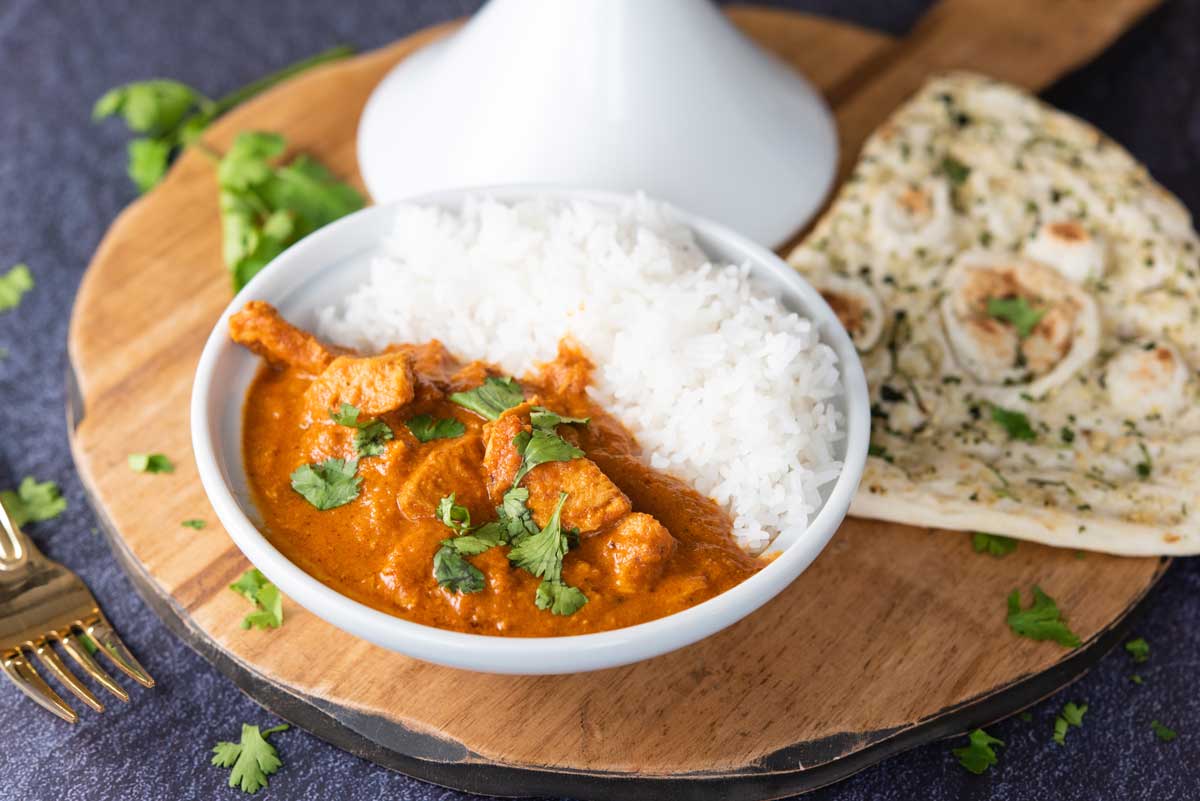 Turn off the saute feature and set your Instant Pot to pressure cook on high for 20 minutes. Once your Instant Pot is finished cooking you will quick-release the steam and TURN OFF THE WARM FEATURE. I put this in all caps because you want the dish to slightly cool off before adding the greek yogurt. This is to prevent any curdling. You never want to add milk-based ingredients at boiling temperatures. Always let your dish cool down slightly. After adding the greek yogurt, give your Chicken Tikka Masala recipe a taste, and add a little additional salt if needed. You can also add additional cayenne pepper if you want an extra kick. I personally do not like my Tikka Masala too spicey, so I only add a pinch. However, if you enjoy spicy foods, try adding 1/4 tsp – 1/2 tsp.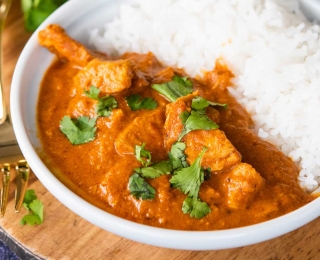 Authentic Chicken Tikka Masala Recipe for the Instant Pot
This authentic chicken tikka masala recipe is full of flavor using fresh tomatoes, greek yogurt, and a variety of Indian spices. It is also incredibly healthy, low calorie, gluten-free, and low carb by simply ommiting the rice.
Print
Pin
Rate
Ingredients
1

lb

Chicken Breast

2 large

½

cup

Greek Yogurt

1

tbsp

tomato paste

1

tbsp

butter

½

cup

sweet onions

chopped

3

cloves

garlic

chopped

1

tbsp

ginger

fresh grated

2

whole

tomatoes

large, seeded and peeled

2

tsp

graham marsala

2

tsp

paprika

1

tsp

coriander

2

whole

cardamon pods

⅛

tsp

cayanne

1½

tsp

salt

½

tsp

pepper
Instructions
First, slice your chicken into 1" pieces, add to a small bowl with 1tbsp lemon juice, 1 tsp graham marsala, and 1/2 tsp salt. Then set aside in the fridge.

Next seed and peel your tomatoes by slicing an X on the bottom and dropping them in boiling water for just under a minute. The skin will easily peel off. Be sure to remove the seeds over a bowl using a strainer to collect all the juice. Then chop your tomatoes and set aside in a bowl.

Turn your Instant Pot onto the Saute "more" setting. Once heated add 1 tbsp of butter and after it melts add your garlic, onions, cardomon seeds, and ginger. Saute for 2-3 minutes and then add your tomatoes. Saute for an additional 2-3 minutes until your tomatoes are nice and tender. Remove the cardomon seeds and add everything to a blender.

Then spray a small amount of olive oil into the Instant Pot and saute your chicken. While your chicken is sauteing, puree your ingredients in the blender until they make a smooth sauce and add to your Instant Pot. Give everything a good stir, scraping any bits on the bottom of the pot. Turn off the Instant Pot.

Then, in the bowl with your reserved tomato juice, mix in your tomato paste and all your spices. Add to your instant pot, stir, and turn the Instant Pot on the Pressure Cook high setting for 20 minutes.

Once your Instant Pot is finished, quick-release the steam and turn completely off, letting the dish slightly cool down. Then stir in your greek yogurt and add any additional salt to taste.
Notes
Garnish this dish with fresh cilantro.
Chicken Tikka Masala Serving Suggestions:
You can serve this dish with Basmati Rice or Garlic Naan Bread. As a healthier option, I enjoy this dish with Trader Joes brown rice medley.
For a low carb and gluten-free option, serve with frozen peas or over zucchini noodles. 
How to Seed and Peel Tomatoes
Here is our guide on seeding and peeling tomatoes.
Nutrition Facts
Authentic Chicken Tikka Masala Recipe for the Instant Pot
Amount Per Serving (1 cup)
Calories 206
Calories from Fat 54
% Daily Value*
Fat 6g9%
Cholesterol 81mg27%
Sodium 1077mg47%
Potassium 767mg22%
Carbohydrates 9g3%
Protein 28g56%
Vitamin A 1460IU29%
Vitamin C 17mg21%
Calcium 50mg5%
Iron 1mg6%
* Percent Daily Values are based on a 2000 calorie diet.
When serving I like to garnish with some fresh cilantro with a side of basmati rice or brown rice medley. Chicken Tikka Masala is also lovely paired with warmed Naan garlic bread. If you are cooking for the family, I also recommend pairing this Chicken Tikka Masala recipe with my Saag Paneer recipe!