The Most Authentic Beef Meatball Recipe with Homemade Spaghetti Sauce for the Instant pot
I've been working on perfecting this Beef Meatball Recipe with my homemade spaghetti sauce for quite some time. Gowing up, each Sunday I would love our weekly visit to my Aunt Annie's house in New Jersey. My cousins would drive all the way down from NY and it would feel like a big family reunion. They say food brings people together and nothing could be more true when it came to Aunt Annie's Sunday dinner.
She would wake up early in the morning to begin preparing an Italian feast with homemade sauce, tender meatballs, and sweet Italian sausage. For my entire life, I have yet to taste anything quite like my Aunt Annie's spaghetti and meatballs but I've spent most of my adult life trying to recreate them. This beef meatball recipe with homemade spaghetti sauce is the closest I've come.
So what makes an amazing meatball? In a previous article from covering Angelina's Pizzeria, I discuss how an amazing meatball must be tender, moist, and well blended. A delicious meatball should never taste like a ground meat patty or have the texture of a burger. The majority of meatball recipes leave out one key ingredient that makes all the difference, milk.
Beef Meatball Recipe Ingredients
The secret ingredient if you want tender, juicy beef meatballs is 2% milk! You never want to add dry breadcrumbs when you're blending your meatballs. You first add milk to moisten the breadcrumbs before adding them to the bowl. Below are the ingredients you'll need for my beef meatball recipe.
90% Lean Ground Sirloin
2% Milk
Olive Oil
Whole Egg
Panko Breadcrumbs
Fresh Basil & Oregano
Garlic Powder, Salt,  & Pepper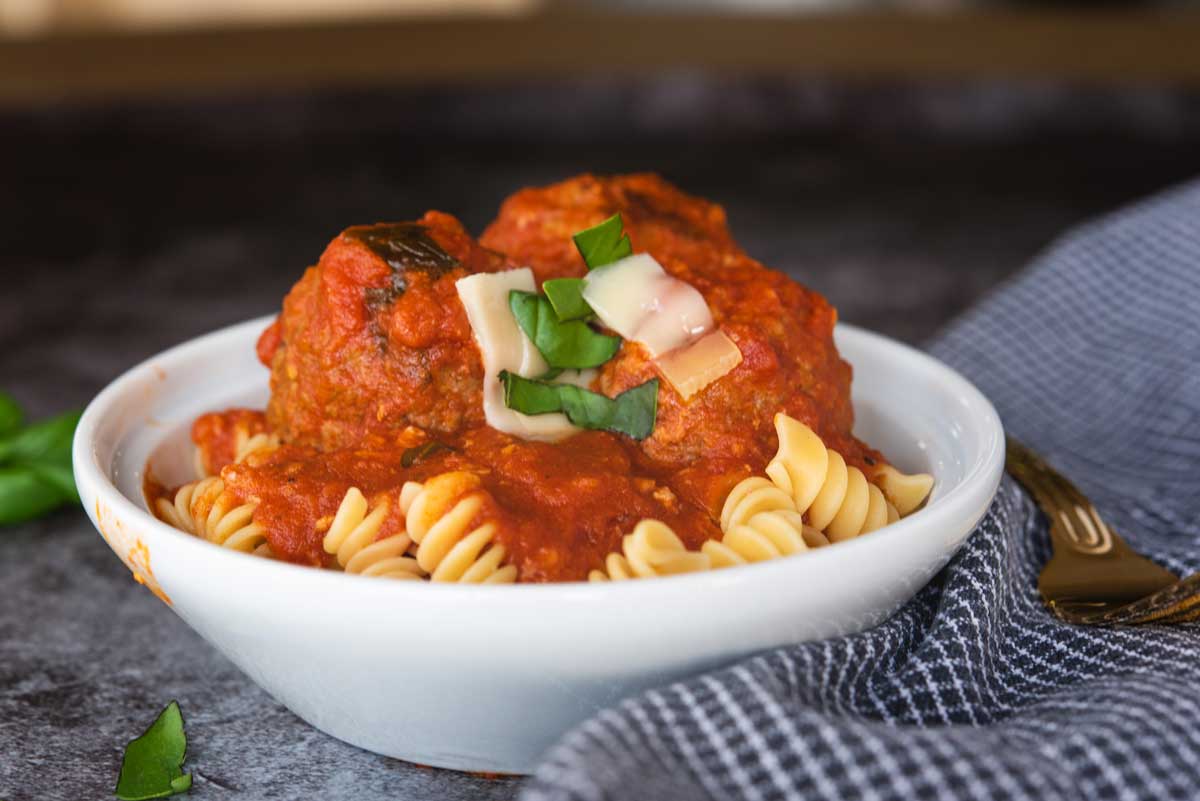 Instead of cooking for meatballs and sauce all day, I highly recommend using the Instant Pot. You could also use a crockpot, but with an Instant Pot your time would be 20 minutes instead of 8 hours. My Aunt Annie used to start her spaghetti sauce and meatballs early in the morning and simmer it for hours. If you have not purchased an Instant Pot it is one of the best appliances you can invest in.
Ingredients for Homemade Spaghetti Sauce Recipe
Of course, amazing meatballs need an equally delicious sauce. My Spaghetti Sauce recipe is very similar to the recipe for my marinara I posted in my Chicken Meatball Recipe. The only main difference is that you blend the ingredients when making a pasta sauce. I still like a few chunks of tomato in my sauce so I reserve a few stewed tomatoes to chop and add to the sauce once it's blended. Homemade sauce and marinara are so simple to make using canned whole peeled tomatoes, you'll never want store-bought again.
Canned Peeled Whole Tomatoes
Tomato Paste
Onion
Fresh Garlic
Fresh Basil
Salt & Pepper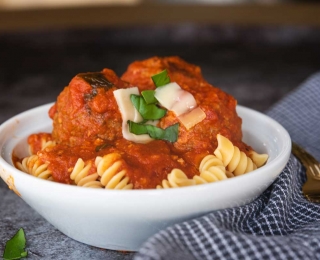 Beef Meatball Recipe with Homemade Pasta Sauce for the Instant Pot
I have spent months perfecting this meatball recipe to try and replicate my late Aunt Annie's who made the best spaghetti and meatballs I've ever had in my life. This meatball recipe is better than you'l find in most Italian restaurants!
Print
Pin
Rate
Ingredients
Beef Meatball Ingredients
1

lb

ground sirloin

90% Lean

1/2

cup

parmesan cheese

fresh grated

½

cup

panko breadcrumbs

1

egg

1

tbsp

olive oil

6

tbsp

2% milk

1/2

tsp

oregano

chopped fresh

1/2

tsp

basil

chopped fresh

1

tsp

garlic powder

1.5

tsp

salt

Pink Himalayan

.5

tsp

pepper
Homemade Spaghetti Sauce
64

oz

whole peeled tomatoes

2 large cans

2

tbsp

garlic

chopped

1

cup

sweet onions

chopped

2

tbsp

Tomato Paste

1/4

cup

basil

fresh, sliced

1

tbsp

olive oil

1

tsp

salt

Pink Himalayan

1/2

tsp

pepper
Instructions
Meatballs
First add your breadcrumbs to the bowl with the 6 tbsp of milk so your breadcrubms are moist. Never add dry breadcrumbs without first moistening them with milk.

Then, add the remainder of your meatball ingredients, mixing well with your hands. The more you mix your meatballs, the more tender they will be.

Using an incecream scoop, form your meatballs and place them to the side.
Spaghetti Sauce
First, take out the tomatoes from the cans and reserve the juice in a separate bowl. Add two tablespoons of Tomato Paste and whisk.

Then take 4 of your stewed tomatoes, dice them and put them in the bowl.

Take the remainder of the tomatoes, dice them, and set them to the side.

Next, Turn your Instant Pot onto the Saute setting (More which is high heat).

Once heated, add your olive oil, garlic, and onions. Saute for about 1-2 minutes and then add the remainder of your diced tomatoes, salt, & pepper.

Turn off your Instant Pot, remove everything and transfer to a blender. Puree until you reach your preferred consistency.

Next, add your reserved sauce and blended ingredients to the Instant Pot. Add your meatballs, scooping sauce over them. Set your Instant Pot to the pressure cook setting on high for 20 minutes.

While your meatballs are cooking you can boil water for your pasta and add it when there are 10 minutes left on your Instant pot.

Plate and add parmesan and chopped basil as a garnish.
Notes
Remember the secret to amazing beef meatballs is to use 2% milk and moisten your breadcrumbs before adding them to your bowl.
Make your dinner even healthier by using whole wheat pasta.
Nutrition Facts
Beef Meatball Recipe with Homemade Pasta Sauce for the Instant Pot
Amount Per Serving (2 meatballs with sauce)
Calories 380
Calories from Fat 162
% Daily Value*
Fat 18g28%
Cholesterol 103mg34%
Sodium 2021mg88%
Potassium 1131mg32%
Carbohydrates 26g9%
Protein 28g56%
Vitamin A 740IU15%
Vitamin C 38mg46%
Calcium 302mg30%
Iron 6mg33%
* Percent Daily Values are based on a 2000 calorie diet.
Make Your Spaghetti and Meatballs Healthy Without Sacrificing Taste
I really urge everyone to stop buying refined pasta and only purchase pasta which is whole wheat. You want a pasta that is high in fiber. Many even include a boost of protein by including ingredients like chickpea and pea proteins. I promise you they taste exactly the same. Here is the Trader Joes pasta and Barilla Pasta I recommend using. They have really improved the recipe of these whole-wheat kinds of pasta and they are good for you! You can eat all the spaghetti and meatballs your heart desires without the weight gain.
When I cook at home, I never eat refined carbs. Trust me when I tell you, it makes a huge difference and is one of the key reasons I can eat whatever I want and not gain weight. When you see white rice in a photo, my fiance eats it. I prefer the Brown Rice Medley from Trader Joes or Whole Wheat Couscous. I am also a big fan of Farro. Trust me, ditching refined carbs like white rice, bleached pasta's, and white bread makes all the difference.
If you try my Beef Meatball Recipe with Homemade Spaghetti Sauce at home I would love to hear your thoughts. I really think this dish is just as good or better than I've found at most Italian restaurants.