Easy Baked Lamb Chop Recipe with Mint Chimichurri
One of my favorite dinners is this super easy baked lamb chop recipe with my magical mint chimichurri sauce. I recently made this for Easter dinner, but this is so easy to make, it's great for any day of the week. What makes this dish truly mouthwatering and restaurant quality is my special mint chimichurri. It's so good you'll want to keep some french bread on hand so you can scrape every last bit out of the blender!
First Marinate Your Lamb Chops (Optional)
You may first want to marinate your lamb chops which you can do for an hour or even overnight. Making a marinade is very simple. In a blender just combine red wine, garlic, olive oil, salt, pepper, and fresh thyme. If you prefer to chop your garlic & herbs by hand you can skip the blender. Then place all your lamb chops and the marinade in a zip lock bag and refrigerate.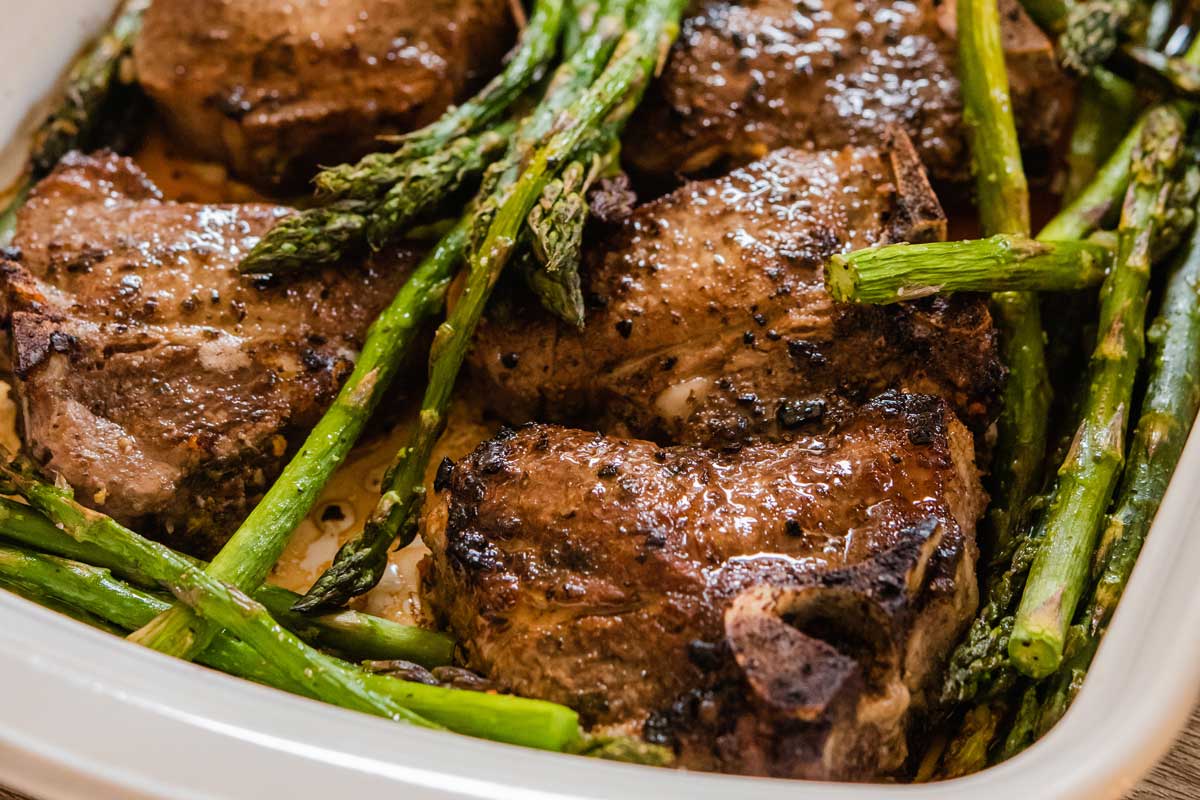 Perfectly Juicy & Tender Baked Lamb Chop Recipe
Baking lamb chops are so incredibly simple…
First, you'll want to preheat the oven to 400 degrees and season both sides of your lamb chops with salt and pepper.
Then sear your lamb chops in a large pan with olive oil at high heat so they are browned on both sides.
Finally, you will either transfer your lamb chops to a baking dish (or keep in your pan if it's oven safe), add some vegetables, and bake for 8-10 minutes.
What vegetables can I add to make this a One-Pan Dish?
What makes this easy baked lamb chop recipe so convenient is that you can add your veggies in the same pan and bake them together in the oven. You will want to choose vegetables that can cook in 8-10 minutes. The juice from the lamb will assist in the cooking process. I recommend asparagus, broccolini, and cauliflower. I especially love it when the cauliflower comes in a variety of colors.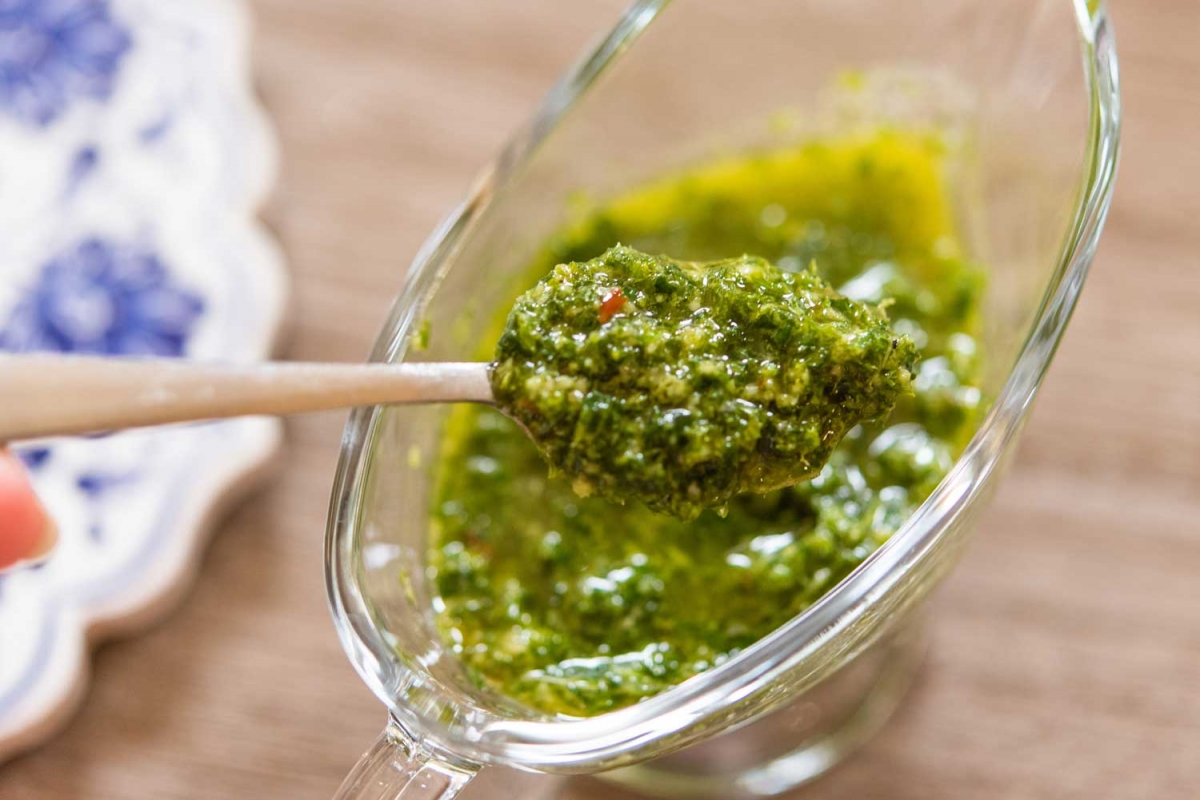 My Amazing Mint Chimichurri Recipe
My mint chimichurri sauce is absolutely magical. I make this every time I cook lamb, however, you can also omit the mint and add extra parsley to make a traditional chimichurri sauce. My recipe was inspired by a chimichurri sauce I've had at a restaurant in Los Angeles called Lala's which is an Argentinian restaurant. They serve this sauce with bread on all the tables and it is so good we order extra and pour it all over our meal! This chimichurri recipe is fantastic to serve with bread, add to steaks, or serve with chicken kabobs.
In a blender you will combine the following ingredients:
Olive Oil
1 Package of Parsley & 1 Package of Mint (for a regular chimichurri sauce you can omit the mint and add an additional package of parsley)
several cloves of garlic
salt, pepper, & red pepper flakes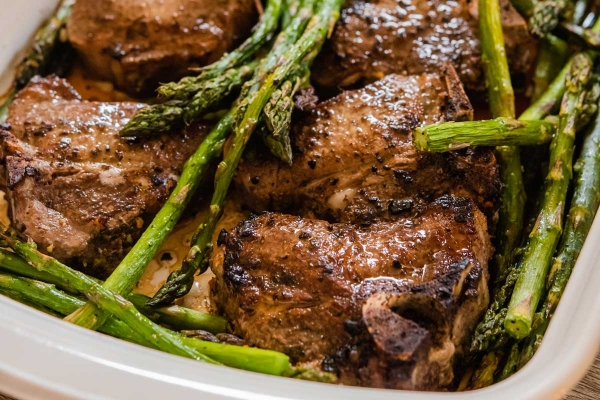 Easy Baked Lamb Chops Recipe with Mint Chimichurri
This Lamb Chops Recipe is incredibly easy and cooks in about 15 minutes. You can even add veggies in the same pan for a complete dinner. I serve this with an amazing mint chimichurri sauce that is also very easy to make. Its so delicious you wont want to waste a single drop.
Print
Pin
Rate
Ingredients
2

lb

lamb chops

1

tbsp

olive oil

salt

pepper
Mint Chimichurri
1

cup

parsley

fresh

1

cup

mint

fresh

1/2

cup

olive oil

1

tsp

red pepper flakes

1

tsp

salt

4

cloves

garlic

1/2

tsp

pepper
Instructions
Marinating your lamb is completely optional. If you want to marinade your lamb chops, chop all the marinade ingredients (listed under NOTES)in a blender and add to a large zip lock bag with your lamb chop for one hour or even overnight.

Preheat oven to 400 degrees.

Remove all lamb chops from the plastic bag and season both sides with salt and pepper. Heat a large pan on high heat and add 1 tbsp of olive oil once heated. Then sear lamb chops on both sides for 1-2 minutes until they are browned.

Next, transfer to a large baking dish, or keep in your pan if it is oven safe up to 400 degrees. Add your preferred vegetables such as asparagus, broccolini, or cauliflower and bake at 400 degrees for 8-10 minutes.
Notes
Optional Marinade for Lamb Chops
If you want to marinade your lamb chops, add the below ingredients to a blender and put in a large ziplock bag with your lamb chops for 1hr-24hrs.
1 cup red wine
1 tbs olive oil
1 tsp salt
1/2 tsp pepper
4 cloves garlic
2 tbsp fresh thyme
Nutrition Facts
Easy Baked Lamb Chops Recipe with Mint Chimichurri
Amount Per Serving (2 lamb chops with chimichurri sauce)
Calories 669
Calories from Fat 423
% Daily Value*
Fat 47g72%
Cholesterol 172mg57%
Sodium 736mg32%
Potassium 883mg25%
Carbohydrates 4g1%
Protein 57g114%
Vitamin A 1890IU38%
Vitamin C 24mg29%
Calcium 80mg8%
Iron 7mg39%
* Percent Daily Values are based on a 2000 calorie diet.
Lamb has always seemed like a very intimidating dish, but once you try this recipe, you'll find it is actually one of the easiest dinners you can make. If you're looking for a fantastic side dish you should also try my amazing scalloped potatoes, they are amazing! If you've tried this easy baked lamb chop recipe or my mint chimichurri recipe, please let me know, I would love to hear how it turned out!