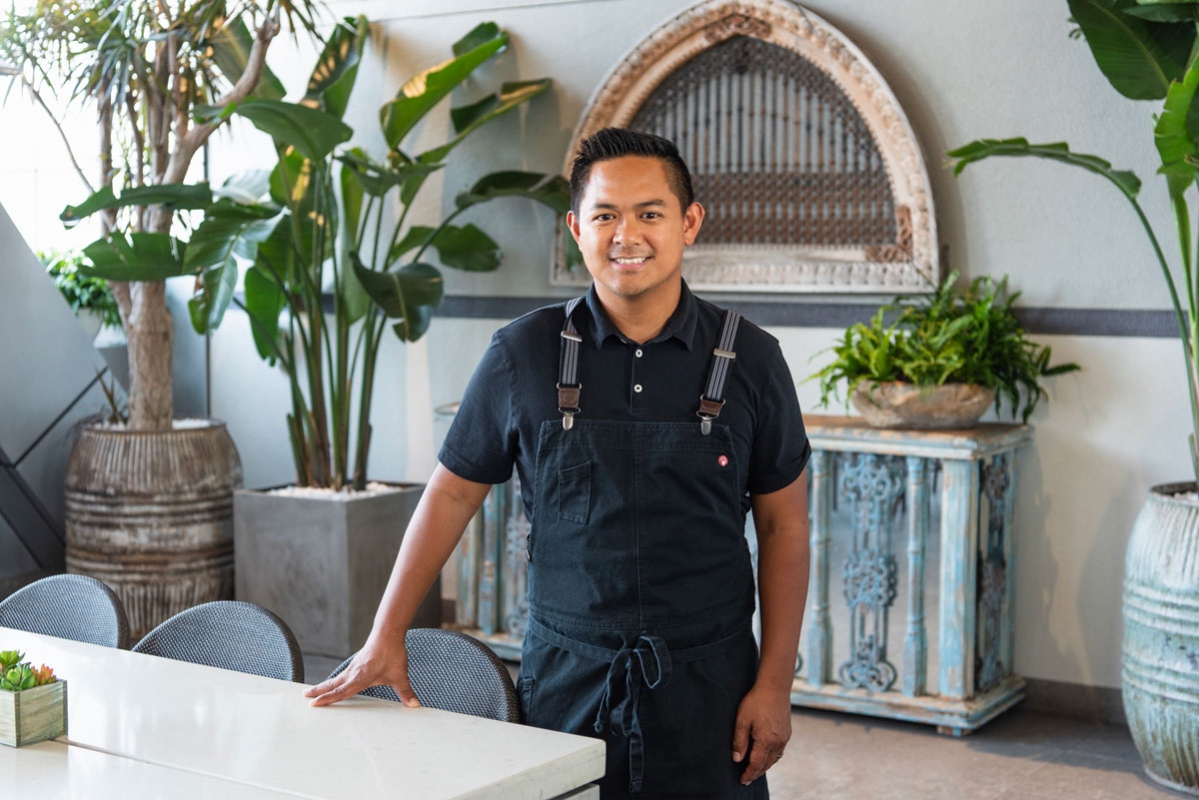 The Orange County restaurant scene has exploded recently and one rising star has been Chef Ross Pangilinan of Terrace by Mix Mix Kitchen in South Coast Plaza. This year alone he has been honored with EaterLa's hottest restaurant in Orange County 2019, Chef of the Year 2019 by the Orange County Business Journal, Best New Restaurants of 2019 by Orange Coast Magazine, Bib Gourmand List by Michelin 2019, and Top Ten Most Exciting Restaurants by Modern Luxury Orange County Magazine. We recently attended a celebration of our local chefs' success and then returned to Terrace by Mix Mix to see for ourself what all the hype was about. I can eagerly tell you that the Cuisine of Chef Ross did not disappoint.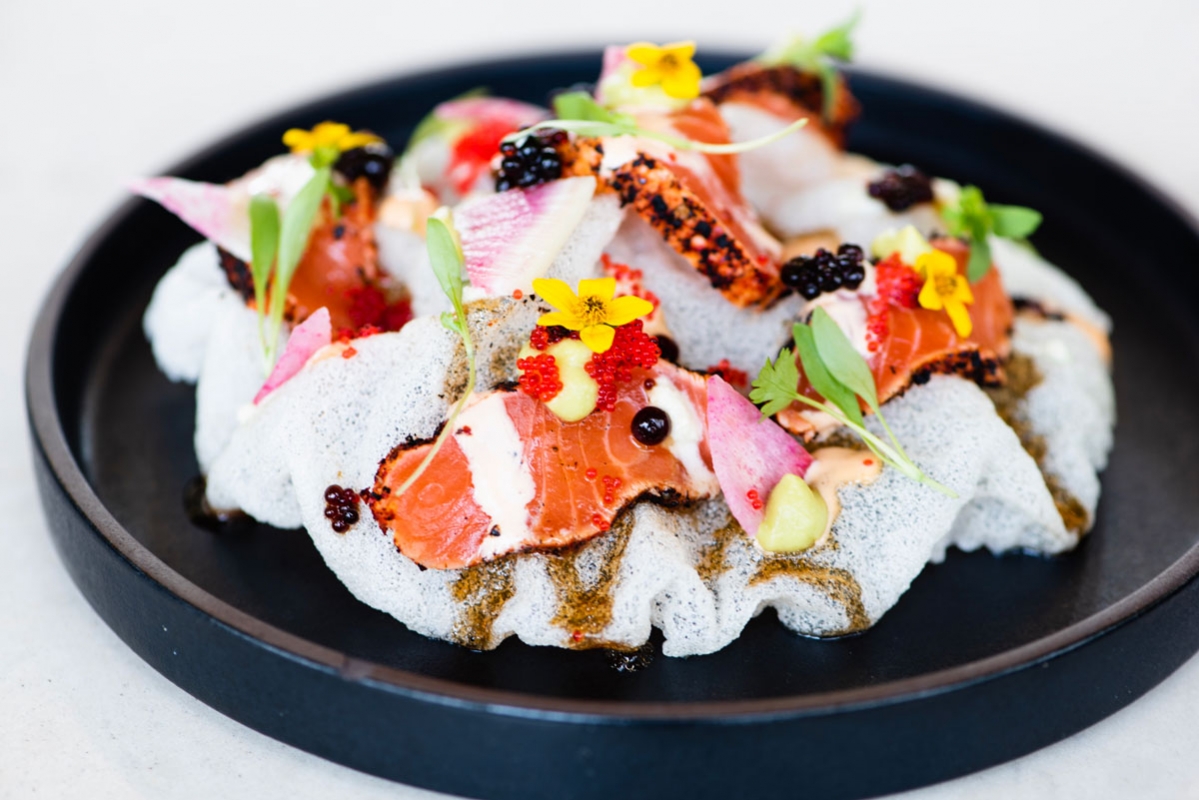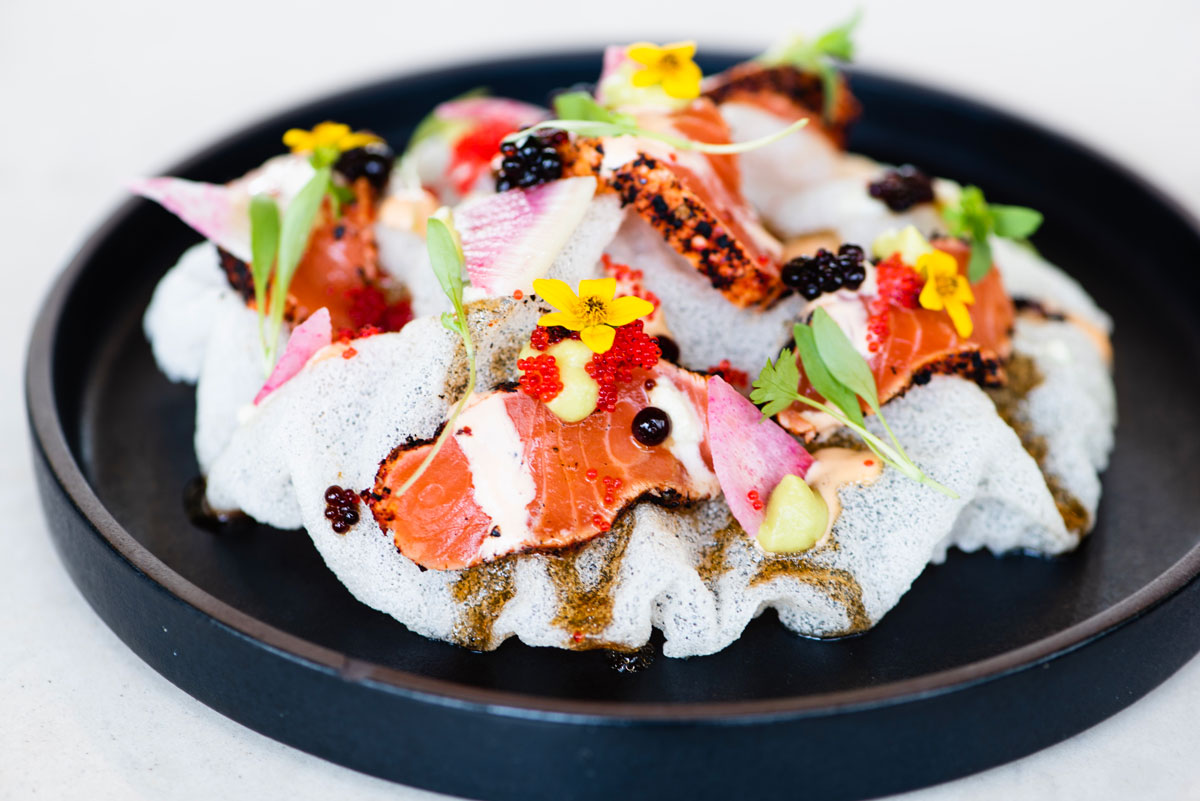 You'll also taste the subtle hint of smokiness from the orange peel rub
First, to start off the evening Chef Ross brought out his masterfully presented Seared Salmon Sashimi. This showstopper of a dish was as delicious as it was beautiful. It arrived with ponzu dressing, soy pearls, avocado, and sriracha aioli, on top of crispy rice. I recommend tearing off pieces of the crispy rice so you can get everything in one bite. Each ingredient blended together perfectly. You'll also taste the subtle hint of smokiness from the orange peel rub that is quickly seared onto the raw salmon using a blow torch technique.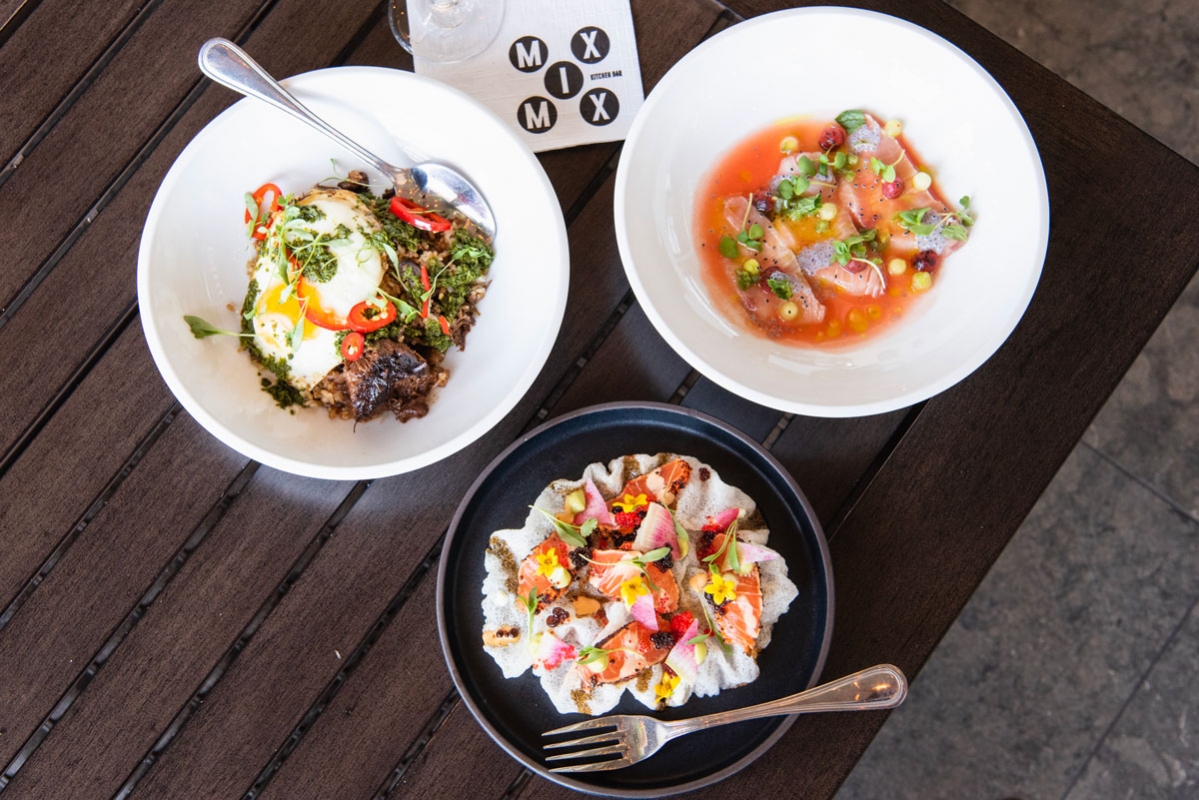 This dish was such a pleasant surprise. I've never gravitated towards raw salmon, but the freshness of the sashimi here is unprecedented. The server informed me that all of the seafood is delivered to the restaurant daily. Chef Ross prides himself on storing the fish properly to ensure maximum freshness and it is very evident in all of his seafood dishes.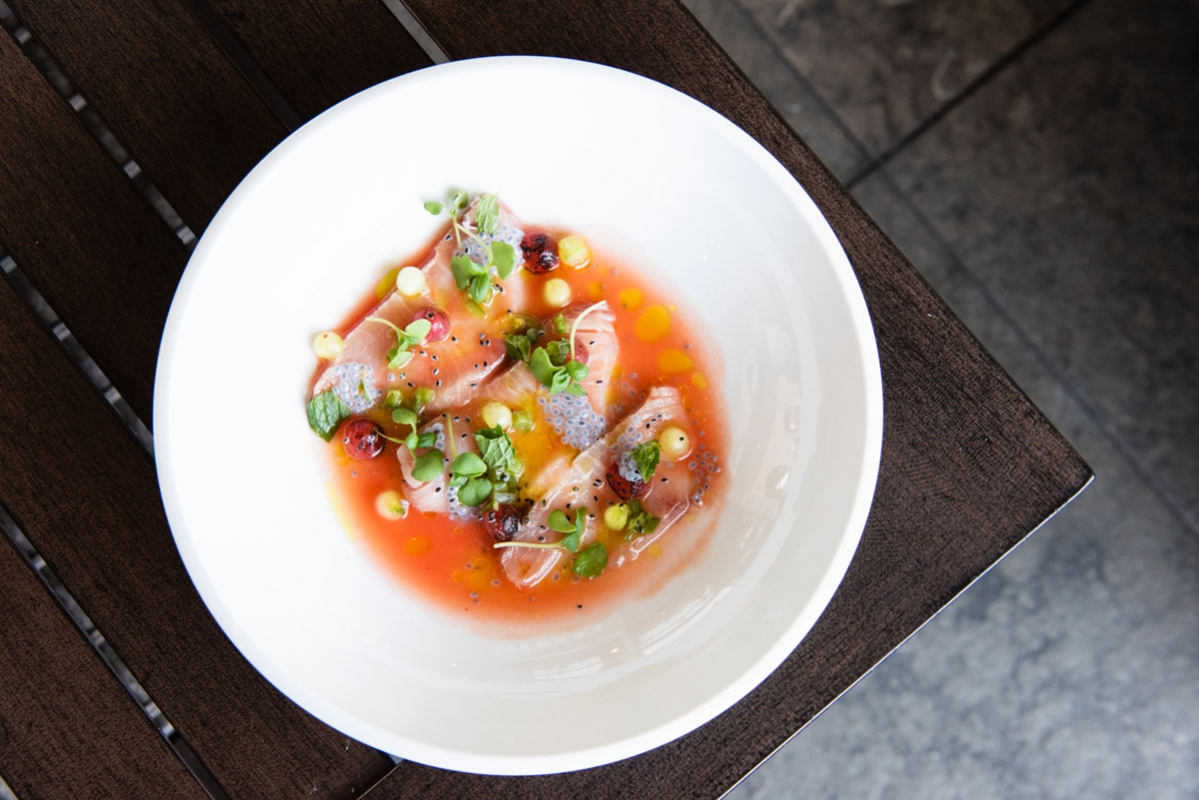 In addition to the Salmon Sashimi, we also enjoyed the fantastic Hamachi Crudo. This was easily one of the most invigorating dishes on the menu. The Hamachi was complimented by watermelon, cucumber, basil, mint, and Serrano chilies. Each ingredient coalesced into a cool, refreshing broth perfect for swirling your sashimi.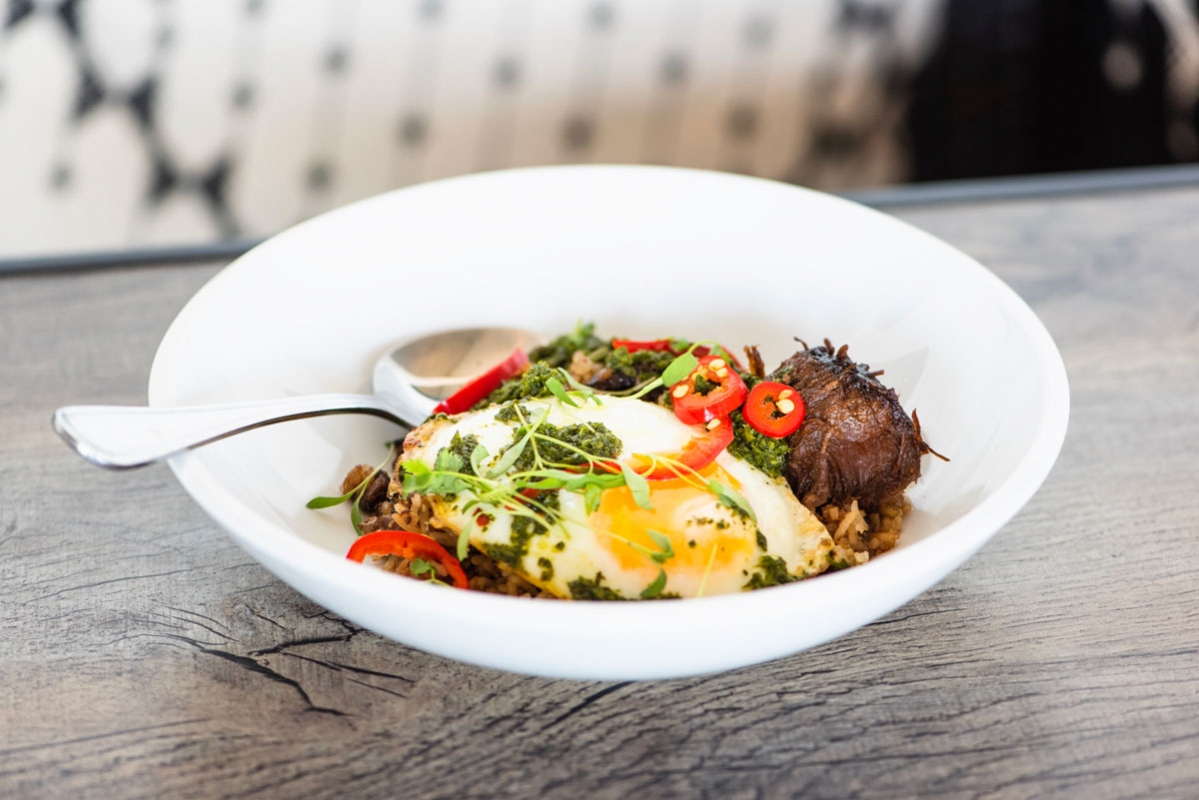 This dish is sure to satisfy even the most esurient appetites
Next, we enjoyed the Pork Adobo Fried Rice small plate, which I would hardly call small. This dish is sure to satisfy even the most esurient appetites. Chef Ross's staple dish can be found at both Terrace by Mix Mix in South Coast Plaza and Mix Mix Kitchen. The only difference being the addition of fried egg which rests atop chefs garlic rice, chimichurri, crispy shallots, and pickled chilies. During Chef Ross's celebration party I discovered this dish being passed around as an appetizer and I'm not going to lie, might have eaten five! This is truly one of those dishes you won't soon forget.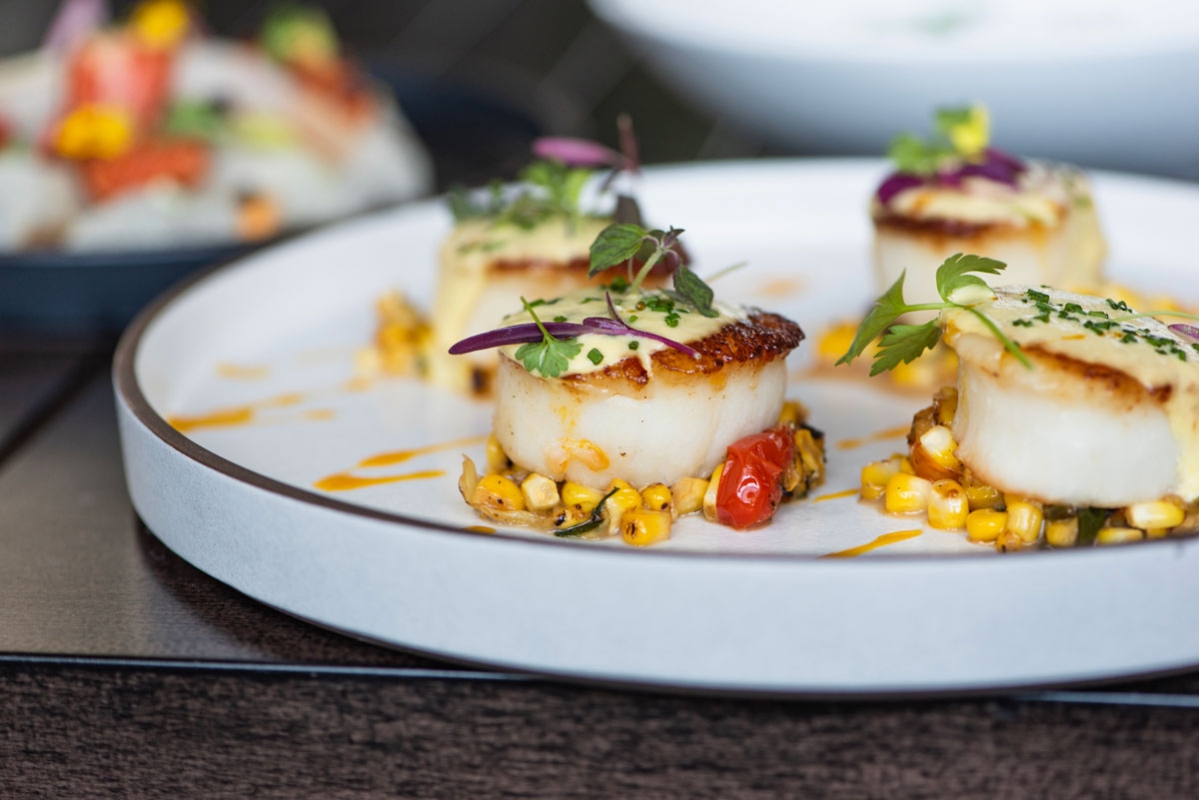 Finally, for an entree, we enjoyed the Seared Scallops. Each scallop was impeccably plated with corn espuma, roasted corn, scallion, cherry tomato, basil. This dish is sure to please all seafood lovers.
Congratulations to Chef Ross Pangilinan for his many noteworthy accolades. We cannot wait to see what else this amazing chef has in store for the Orange County culinary scene and it is always such a pleasure enjoying his delicious globally inspired cuisine.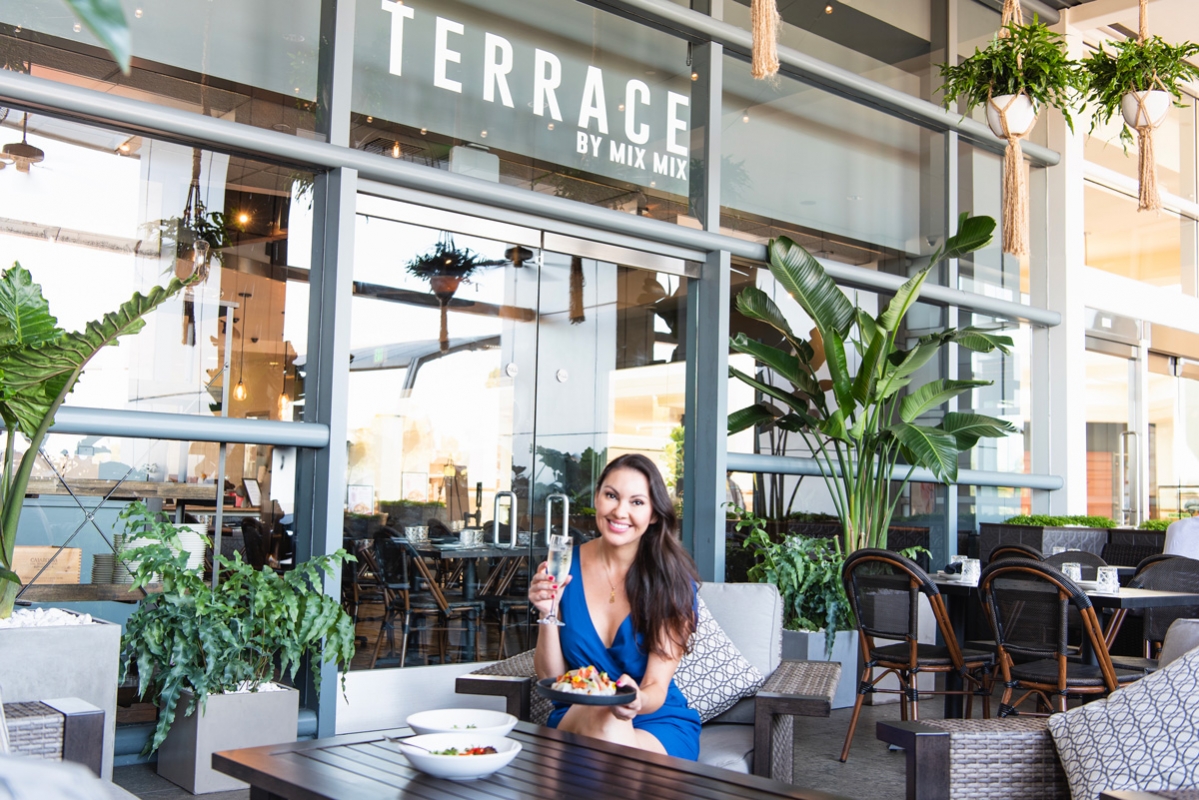 TERRACE BY MIX MIX,
3333 BEAR STREET,
COSTA MESA, CA, 92626, UNITED STATES
Reservations (657) 231-6447
MIX MIX KITCHEN BAR
300 N. Main Street
Santa Ana, CA 92701